Black & White Hazard PermaRoute Available Now
We have extended our PermaRoute colour choices by adding black and white hazard to the range.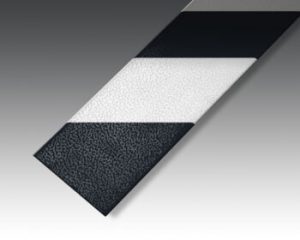 This gives you the choice to further optimise your warehouse or facility using PermaRoute marking tape to create a safe and efficient workflow system.
Black and white PermaRoute marking tape is ideal for designating areas that are required to be kept clear for operational purposes.
This could refer to areas that are required to be kept completely clear for:
Through traffic
Delivery vehicle drop off/pick up
Exit routes
Stairways
These vital areas, if congested could cause a backlog or safety issues so it is vital that these are marked clearly to prevent such issues arising.
Black and white PermaRoute is available in various roll widths ranging from 19mm to 1168mm and lengths up to 30 metres. Die cuts are also available in various sizes and shapes. Custom shapes are possible dependent on order quantity.
To see the product first hand, request samples here. Should you wish to discuss custom options or place an order, you can contact us via phone, live chat or fill out the contact us form and a member of our sales team will get back to you as soon as possible.