Black & White Hazard PermaRoute® Available Now
We have extended our PermaRoute® colour choices by adding black and white hazard to the range.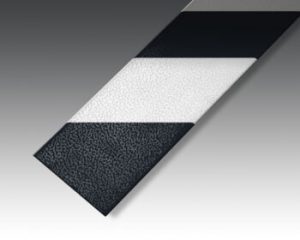 We are excited to announce the latest addition to our PermaRoute® line marking range: black and white hazard markings. By expanding our color choices, we provide you with even more options to optimize the efficiency and safety of your warehouse or facility using PermaRoute® marking tape.
The introduction of black and white PermaRoute® marking tape offers distinct advantages in designating areas that must be kept clear for operational purposes. These areas may include traffic zones, delivery vehicle drop-off and pick-up points, exit routes, and stairways. Ensuring the clear demarcation of these vital areas is essential to prevent congestion and potential hazards and maintain a smooth workflow.
Black and white PermaRoute® marking tape provides excellent visibility and contrast, making it easy to identify and differentiate designated areas. The stark contrast between the black and white colors creates clear visual cues for employees and visitors, guiding them along proper pathways and helping them avoid restricted or hazardous areas.
When it comes to size options, black and white PermaRoute® is available in a range of roll widths, spanning from 19mm to 1168mm, to accommodate various application requirements. Additionally, you have the flexibility to choose from different roll lengths, with options extending up to 30 meters. To meet your requirements, we also offer die-cut shapes in various sizes and designs.
Furthermore, if you have unique shape requirements, we can accommodate custom shapes based on the order quantity. We understand that seeing and experiencing the product firsthand is crucial for making informed decisions. To assist you in evaluating the quality, durability, and visual impact of black and white PermaRoute® marking tape, we encourage you to request samples. Our samples will allow you to assess the product's suitability for your specific requirements, ensuring that it aligns with your expectations.
If you have any questions regarding bespoke options or if you are ready to place an order, our dedicated sales team is here to assist you. You can contact us via phone, engage in a live chat session, or fill out the contact us form on our website. We prioritize providing prompt and personalized service, ensuring that your inquiries are addressed in a timely manner.
By expanding our PermaRoute® color choices to include black and white hazard markings, we aim to provide you with comprehensive solutions for creating a safe and efficient workflow system within your warehouse or facility. We believe that these new color options will enhance the clarity, visibility, and effectiveness of your marking system, ultimately contributing to a more organized and secure working environment.
To explore our complete range of PermaRoute® products and gain an understanding of their features and benefits, we invite you to visit our website. We are committed to delivering high-quality marking tape solutions that meet your specific requirements and contribute to the success of your operations.
Contact us today to discover how black and white PermaRoute® marking tape can elevate the safety and efficiency of your workplace. We look forward to serving you and assisting you in creating an optimized marking system that meets your unique needs. With our extensive range of color options and customizable solutions, we are confident that together we can create a marking system that promotes safety, organization, and productivity in your facility.
Experience the benefits of black and white PermaRoute® marking tape and join our growing list of satisfied customers who have witnessed the positive impact of our products. We are excited to embark on this journey with you, and we are committed to providing exceptional service and support throughout the process.