Green and White Hazard PermaRoute® Now Available
Due to popular demand, green and white hazard PermaRoute® has now been approved for general manufacture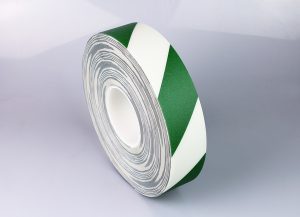 Due to high demand and the growing need for effective workplace safety solutions, we are thrilled to announce that green and white hazard PermaRoute® has been officially approved for general manufacture. This exciting addition expands our already extensive range of color options for PermaRoute®, providing our valued customers with even more choices to meet their specific marking and safety requirements.
With the introduction of green and white hazard PermaRoute® with its striking green color combined with the hazard chevron pattern in white, this new PermaRoute® variant offers enhanced visibility and serves as an effective demarcation tool in various applications.
One of the key benefits of green and white hazard PermaRoute® is its versatility in demarcating specific areas within a facility. Here are some examples of where this color combination can be particularly advantageous:
First Aid Stations: By utilizing the vibrant green color, green and white hazard PermaRoute® can be employed to clearly designate the location of first aid stations throughout the facility. This helps ensure that medical supplies and assistance are easily accessible during emergencies. The hazard chevron pattern further reinforces the importance of caution and draws attention to these critical areas.

Treatment Areas: In healthcare settings, green and white hazard PermaRoute® can be used to mark designated treatment areas, such as examination rooms or patient care zones. This allows medical staff to quickly identify and navigate to the appropriate areas, streamlining workflows and ensuring efficient patient care.

Fire Exits: Effective marking of fire exits is essential for maintaining a safe working environment. Green and white hazard PermaRoute® can be utilized to clearly indicate the pathways to emergency exits, guiding employees and visitors to the nearest exit points in the event of a fire or evacuation. The visibility of this color combination helps minimize confusion and facilitates a swift response during emergencies.

Breathing Apparatus Zones: Industries that require the use of respiratory protection equipment can benefit from green and white hazard PermaRoute® to demarcate specific zones where such equipment must be worn. The prominent green color alerts individuals to the need for precautionary measures, ensuring that employees are aware of the designated areas and adhere to safety protocols.
In addition to the expanded color options, green and white hazard PermaRoute® is available in wholesale full-width log format, allowing for greater flexibility in meeting specific marking requirements. With roll widths ranging from 15mm to 1168mm and a length of 30 meters, our customers have the freedom to choose the most suitable dimensions for their unique applications. This flexibility ensures that the product can be seamlessly integrated into existing floor layouts, optimizing safety and efficiency in the workplace.
To experience the quality and effectiveness of green and white hazard PermaRoute® firsthand, we offer samples upon request. By filling out our sample request form, you can receive sample pieces that showcase the durability, visibility, and ease of installation of this innovative marking tape.
At Heskins, we are dedicated to providing our customers with reliable, high-quality solutions that enhance workplace safety and organization. 
By choosing green and white hazard PermaRoute®, you are creating a visually impactful marking solution that promotes safety and efficiency in your facility. Incorporating this innovative tape into your workplace will not only enhance the visual communication of hazard areas but also contribute to a safer and more productive working environment.